#1 Provider for Botox® Cosmetic
Get Smooth, Natural, Long-Lasting Results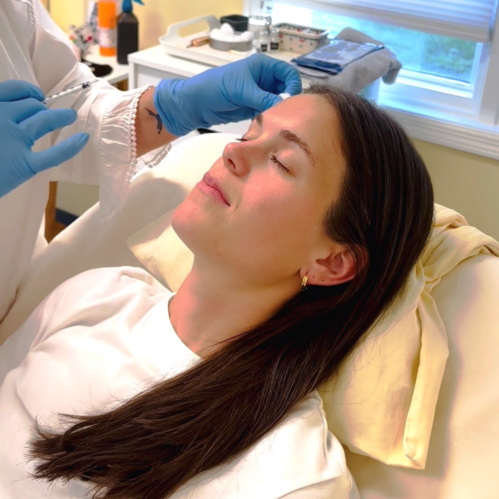 Benefits of Botox with Simply Bliss
Customized Treatments & Experienced Providers
Simply Bliss Medical Spa in Omaha, NE is the best medical spa for Botox treatments for several reasons. Firstly, the staff at Simply Bliss are highly trained and experienced professionals who are committed to providing their clients with the highest level of care. They understand the importance of taking a personalized approach to Botox treatments, and they work closely with each client to develop a customized treatment plan that is tailored to their individual needs and goals.
Quality, Accuracy, & Effectiveness
Additionally, Simply Bliss uses only the highest quality products and equipment, ensuring that clients receive the best possible results from their Botox treatments. The spa is equipped with state-of-the-art technology, including advanced injectors and other tools that are designed to enhance the accuracy and effectiveness of Botox injections.
Safety & Knowledge
Another reason why Simply Bliss is the best medical spa for Botox treatments is the spa's commitment to safety. The staff at Simply Bliss are trained to adhere to strict safety protocols, and they take every precaution to minimize the risk of adverse reactions or complications. They are also knowledgeable about the latest techniques and best practices in Botox treatment, ensuring that clients receive the most up-to-date and effective care.
Welcoming & Friendly Staff
Finally, Simply Bliss offers a warm and welcoming environment that is designed to put clients at ease and help them feel comfortable and relaxed throughout their treatment. The spa's calming atmosphere, friendly staff, and exceptional customer service make it the perfect choice for anyone looking for top-notch Botox treatments in Omaha, NE.
Book Today
In conclusion, Simply Bliss Medical Spa is the best choice for Botox treatments for its experienced and knowledgeable staff, high-quality products and equipment, commitment to safety, and welcoming environment. Whether you are looking to enhance your appearance or to treat a specific medical condition, Simply Bliss is the perfect place to receive the best possible care.
Frequently Asked Questions
BOTOX® is actually the trade name for a substance injected into the skin which is known to inhibit muscle movement and can prevent wrinkles from developing or worsening. BOTOX® is a medical treatment that can be used to help relax facial muscles. This makes lines and wrinkles, such as crow's feet and frown lines, less obvious. BOTOX® can temporarily alter your appearance without the need for surgery.
BOTOX® Cosmetic is the only approved treatment to temporarily improve the appearance of both moderate to severe frown lines between the brows and crow's feet lines in adults. BOTOX® Cosmetic is one of the most extensively studied medical aesthetic treatments and is approved for cosmetic use in 78 countries.
BOTOX® Cosmetic has a record of experience that aesthetic specialists know and trust. And the safety and efficacy of BOTOX® Cosmetic have been evaluated in both Allergan-sponsored clinical trials as well as in 417 peer-reviewed articles in scientific and medical journals
BOTOX® Cosmetic contains tiny amounts of a highly purified botulinum toxin protein refined from the bacterium, Clostridium botulinum. Formulations, potency, and approved doses vary among botulinum toxin products, which means that one product cannot take the place of another. Those are a few reasons why there is no such thing as a "generic" form of BOTOX® Cosmetic. There have been no studies to support that other products are Unit-to-Unit equivalent to BOTOX® Cosmetic.
Approximately 10.9 million vials of BOTOX® Cosmetic have been sold in the United States since 2002, and millions of people have already made BOTOX® Cosmetic a part of what they do for themselves. Today, BOTOX® Cosmetic is the #1 selling product of its kind in the world.
Call or book an appointment today to experience smooth, long-lasting results with BOTOX®! 
"Amy is an artist with filler and Botox. She is also an amazing, inspiring light. She takes her time and explains all, then she searches for the best possible pricing on your service, insisting on a follow up to stand by her work. When you leave, your step is lighter and your youthful look is restored, I would be honored to call her my friend."
-Molly 

"Amazing experience! I have gone to Simply Bliss for a few years now. I love the personal touch Amie has with her clients. I've been so pleased with the results of filler and Botox. The staff is friendly and knowledgeable. I won't go anywhere else. I'm beyond satisfied each time I visit."
-Leanna

"Simply Bliss is simply THE BEST! The staff is friendly and knowledgeable. The facility is beautiful and peaceful. I have had a few different practitioners administer my Botox and filler over the years, but after visiting Amy Hunt, I will never see anyone else! She truly customizes the product and services for each individual based on his/her needs and wants. Highly recommended!"
-Jordan

"Today was my first time visiting and I have to say it was easy to see that everyone there truly cares about making your experience special. The environment is warm, inviting, positive, and clean. It felt professional and like family at the same time. You don't find many businesses that offer that these days. This is only my second experience with Botox but I felt like Amy consulted with me and treated me in a way that I trust my results are going to be amazing! She also fixed an issue with my skin that I didn't know could be fixed. It was a quick and complimentary add-on service. I am very grateful for that. Thank you Amy. You have made a customer for life. I spoke with Anthony and Emily at the desk and I'm certain they light up any room they enter. I see great skin coming my way!"
-Kara

"AMAZING!!! I have never had any type of cosmetic procedure done and went to Amy for Botox. I was fairly nervous about not only the appointment but also the outcome (worried I would look frozen or fake). Immediately Amy eased these fears, discussed in depth what she thought was best for me and what my options were. She was complimentary of the care that I take of my skin, not pushy and extremely personable. She gained my trust immediately and I am thrilled with my results! I wish I wouldn't have waited so long."
-Megan